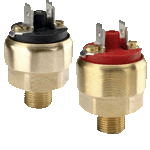 Switch adjustment ranges from 15 psig to 30 psig through 15 psig to 150 psig
Standard brass with NBR diaphragm wetted parts
1 SPST N.O. or N.C. contact
Have any questions or not sure which part you're looking for?
Call us today at 901.363.0377 or email us, and we're happy to help!