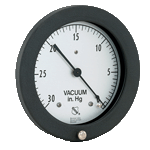 The Ashcroft® Type 1017 pressure gauge is the most economical of the general service industrial gauges when flush panel mounting is required.  

Accuracy Dial
 Size and Case Material
Ranges
ASME B40.100 Grade 1A
(±1% of span)
4.5", 6" Black epoxy painted Aluminum case
Vacuum, compound, 30,000 psi
Have any questions or not sure which part you're looking for?
Call us today at 901.363.0377 or email us, and we're happy to help!