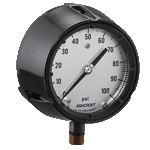 The Ashcroft® 1220 industrial pressure gauge is a good solution for general pressure measurement.

Accuracy Dial
 Size and Case Material
Ranges
ASME B40.100 Grade 1A
(±1% of span)
4.5" Phenolic, 6" Polypropylene, 8.5" Aluminum
Vacuum to 30,000 psi
Have any questions or not sure which part you're looking for?
Call us today at 901.363.0377 or email us, and we're happy to help!