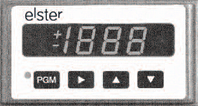 The EBC2C is an AC powered totalizer, rate indicator and batch congtroller. It has both single relay output to a standard solenoid and dual relayoutput for use with dual valve batch control systems, dual stage solenoids, or bi-directional solenoids with auxilliary limit switchers.

Have any questions or not sure which part you're looking for?
Call us today at 901.363.0377 or email us, and we're happy to help!