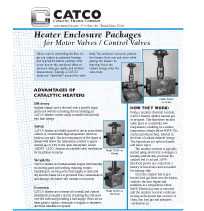 The most cost effective and efficient way to prevent freezing in Kimray, Fisher, Norriseal and other motor valves.

Accessories:
CATCO Catalytic Heater Company provides a variety of parts and accessories for use with catalytic heaters. All parts and accessories are designed to enhance the effectiveness and the safe operation of catalytic heaters.

Have any questions or not sure which part you're looking for?
Call us today at 901.363.0377 or email us, and we're happy to help!