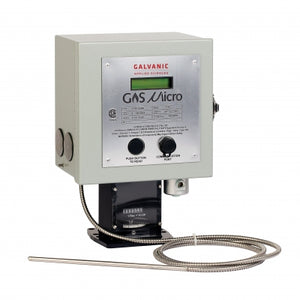 Galvanic Gas Micro models:
GM 100
GM 200
GM 300
GM 500
GM 600
GM 1000
Product features:
User-friendly GasMicro IMACS®

 

Windows® PC software with point-&-click/drop-&-drag functionality for easy local or remote configuration

Fully configurable Modbus (Enron RTU) & three levels of password protection for optimal Specifications
Automated options include: automated meter reading/reporting & configurable alarms capable of initiating automatic dial-out alarm or email notifications
AGA 7 & AGA 8 volume-correction calculation methods
Instrument mount with integrated pulse generator for turbine, rotary, diaphragm or positive-displacement meter with optional remote pulse configuration to receive a pulse from the meter or any other pulse output device
Pulse outputs for controlling odorant or other process devices
Reverse flow and rocking-detection compensation
Long battery life with redundant supplies using alkaline or lithium batteries
Solar power or external 110VAC – 12VDC switching supply available
Rugged design with industrial components and four-year comprehensive warranty
Redundant mechanical backup measurement for continuous measurement – even with electronic failure!
Have any questions or not sure which part you're looking for?
Call us today at 901.363.0377 or email us, and we're happy to help!