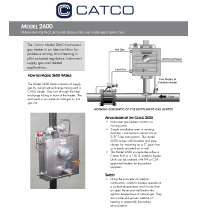 CATCO Catalytic heaters are ideal for preventing freezing in pilot actuated regulators. Catalytic heaters operate at surface temperature of 600-800°F much lower than open flame. These heaters are a safe source of heat in combustible gas or liquid environments.
Accessories:
CATCO Catalytic Heater Company provides a variety of parts and accessories for use with catalytic heaters. All parts and accessories are designed to enhance the effectiveness and the safe operation of catalytic heaters.

Have any questions or not sure which part you're looking for?
Call us today at 901.363.0377 or email us, and we're happy to help!