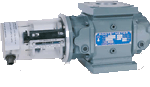 Solid State pulse+ generates low frequency pulses which represent volumetric information necessary for remote date collections units. Solid state construction eliminates mechanical switches and ensures maximum reliability. No battery and no maintenance are required.

Have any questions or not sure which part you're looking for?
Call us today at 901.363.0377 or email us, and we're happy to help!