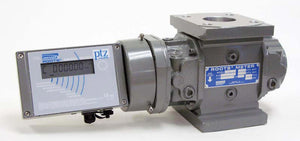 The IMCW/2 is the new line of integral volume correctors from Dresser Measurement. The product is available on Series B ROOTS® meters, sizes 8C through 16M (G16 to G250).
The new IMCW/2 measures live pressure and temperature to calculate corrected volume, includes supercompressibility calculations (SGERG 88/AGA 8 Gross Characterization Method) and data/audit logging functions.
The pressure transducer and temperature RTD are mounted inside the meter enclosure, therefore the possibility of tampering with these sensors is reduced. There is an additional cost savings as external temperature and pressure connections are not required. In addition to the LCD, the accessory unit also has a back up mechanical counter, which offers a lower cost option to instrument drive mounted correctors.
Have any questions or not sure which part you're looking for?
Call us today at 901.363.0377 or email us, and we're happy to help!