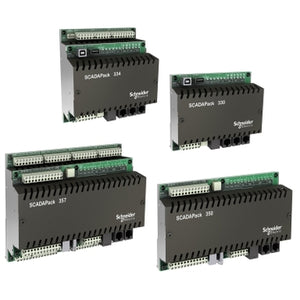 Optimized for Modbus-centric control and monitoring application in the most remote and challenging environments, the SCADAPack 300 series provides smart controller platform solutions with energy efficiency, ruggedness, and cost-efficiency in mind.

SCADA technology: a centralized system to remotely monitor and analyze your control system

Industrial hardened: designed for remote monitoring applications, offers higher degree of reliability and longevity
Remote communication: integrates with virtually any communication network including Trio radios and 3G mobile networks
Optimized for solar applications: ultra-low power consumption reduces the size of the solar panel and extends operation
Integrated PLC/Data logger/Gas Flow Computer: enhanced control and data logging capabilities to increase operational efficiency and reduce cost
NO FILES AVAILABLE
Have any questions or not sure which part you're looking for?
Call us today at 901.363.0377 or email us, and we're happy to help!