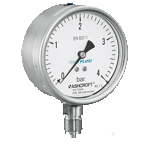 The Ashcroft® T5500 stainless steel pressure gauge has become an industry standard.

Accuracy Dial
 Size and Case Material
Ranges
Standard: Class 1, EN B37-1
1% full scale
100mm or 160mm
304 Stainless Steel,
316 Stainless Steel optional
Vacuum, Compound, -30 in hg - 0, 0-36,000 psi, -1.0, 0-2500 bar
Have any questions or not sure which part you're looking for?
Call us today at 901.363.0377 or email us, and we're happy to help!