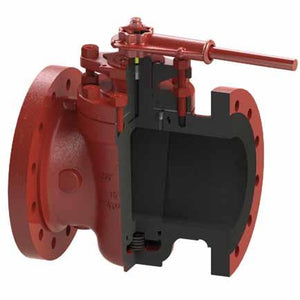 WALWORTH Cast Iron Lubricated Plug Valves are designed to meet the demand for an inexpensive product that incorporates the principal features of the Lubricated Plug Valves.
The Top Entry design is offered in three different patterns: Short, Regular and Venturi from 1/2" (12.7 mm) to 18" (450 mm)
- Iron Body and Plug Classes 175, 200 & 500 CWP.

Design features:

Design in accordance with API-599.
Mechanical Balance spring to avoid jamming of the plug.
Lever or gear operated.
Bi-directional.
Locking devices are available as an option
Tamper-proof bolting is available as an option
Operating extensions and elevations.
Additional Walseal sealants are available for different applications.
Sealant Grooves. this system permits sealant injection while the valve is under full line pressure.
Have any questions or not sure which part you're looking for?
Call us today at 901.363.0377 or email us, and we're happy to help!